Ne, nebojte se, nebudete nic prodávat :-). Zkoumáme po telefonu spokojenost zákazníků s různými produkty, ptáme se na politické názory lidí, nebo například kontrolujeme práci našich tazatelů.

Pokud rádi mluvíte – tak jste tu správně. Nemusíte se bát, že nevíte co přesně říkat. Prostě se jen budete ptát lidí (respondentů) po telefonu a budete u toho v počítači vyplňovat připravený dotazník. Stále tedy máte před sebou pomocníka, který vás povede rozhovorem.
Jak to u nás vypadá?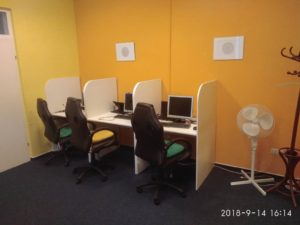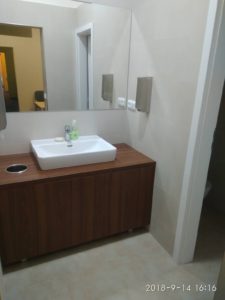 "Lenko, řekni jak se Ti u nás pracuje?"
Nejpříjemnější je, že to není žádna open space hala. Je nás tu 9 ve 2 místnostech. Takže je to takové téměř rodinné prostředí. Nedávno se naše telefonické CATI studio revitalizovalo a musím to jen pochválit. Skvělá je i dopravní dostupnost, naše studio není někde v polích, ale v centru kousek od Václaváku.  
Lenka Šimonová CATI studio 
Kde sídlí naše CATI studio?
CATI studio se nachází v centru Prahy kousek od Václavského náměstí v Krakovské ulici č. 7 ve 3. patře. Máme výtah.
Nebojte se, zaškolíme Vás!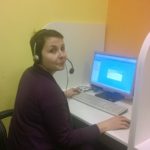 Každému novému kolegovi věnujeme při školení náležitou péči. Školení připravujeme vždy i před větším novým projektem nebo v případě, že potřebujeme doplnit tým operátorů kdykoli během projektu.
Výhoda!
Operátor může v SC&C pracovat na DPP nebo také na živnostenský list.
Kolik si u nás vyděláte?
Pokud jste to vše dočetli až sem, tak hurá, budete ten správný člověk 🙂
Odměna operátora se pohybuje v rozmezí 110-130 Kč/hod.  Je závislá na kvalitě a produkci dotazníků.
Směny v CATI studiu probíhají nejčastěji od 9:00 do 17:00. Dělí se na dopolední a odpolední, vždy po 4 hodinách.
POZOR – zase výhoda!
Operátor se může zapsat na celý den, ale také jen na dopolední nebo odpolední směnu.
KONTAKTY PRO PŘIHLÁŠENÍ
Líbíme se Vám? Pokud o sobě víte, že máte příjemné vystupování, komunikační dovednosti, je na Vás spolehnutí, počítač Vám není cizí, jste pečliví a jen tak Vás nic nerozhází – přidejte se k nám a vyplňte náš PŘIHLAŠOVACÍ DOTAZNÍK. Hned jak to bude možné, se Vám ozveme :-). 
PŘIHLAŠOVACÍ DOTAZNÍK
Máte ještě pár dotazů před tím, než vyplníte dotazník?
V případě dotazů či nejasností ohledně možnosti se stát naším operátorem, volejte, pište na:
Olga Plašilová,  tel. 736 167 246,  oplasilova@scac.cz